The British Inter Counties Fell Running Championships 2017
The British Inter Counties Fell Running Championships 2017
The British Inter Counties Fell Running Championships 2017 took place on Saturday 13th May at Broughton in Scotland. As you can imagine the course was very tough over 9.6km with 600m of climbing.
East Cheshire had 3 representatives taking part in Joe Steward, Tom McGuinness and Scott Matthews who were representing Greater Manchester on the day. Joe Steward had a great run in his debut major fell race finishing 6th overall and 2nd under 23 with a time of 42.01. Experienced fell runner Tom McGuinness followed closely in 9th place overall and 3rd under 23 with a time of 42.43. Scott Matthews also ran well in his debut fell race with a time of 49.47 in 49th place.
Ex-East Cheshire athlete Andrew Fleet finished in 32nd place to help Greater Manchester claim 5th team place in a high quality field. Well done to all!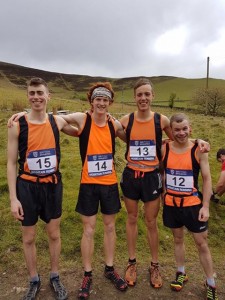 Left to right: Joe Steward, Tom McGuinness, Scott Matthews and Andy Fleet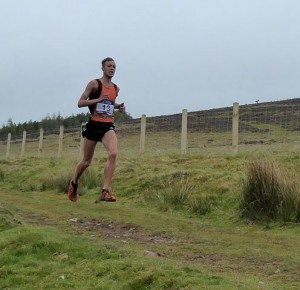 Scott Matthews in action on the downhill section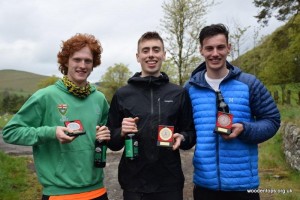 Right to left: Tom McGuinnes, Joe Steward and eventual under 23 winner Max Nicholls with their medals.
Full results: https://britishintercountiesfellrunningchampionships.wordpress.com/senior-event/