Angela Oldham completes 10 marathons in 10 days!!!
Angela Oldham completes 10 marathons in 10 days!!!
Last weekend East Cheshire's Angela Oldham was in the parkrun news at Croxteth Hall on her way to her target of completing 65 different parkruns before she turns 65! Angela managed to break the course record for a female vet 60-64 with a fantastic time of 21.47. See below article:
http://www.parkrun.org.uk/croxtethhall/news/2017/05/09/run-report-event-number-110/
It doesn't stop there for Angela and she is currently in the process of running an incredible 10 marathon in 10 days known as the 'Brathay 10 in 10′ described as 'UK's ultimate endurance running event'. Angela will attempt to run the same marathon around Lake Windermere, England's longest lake every day for 10 days!
Angela completed day 1 in 4.30.07 starting nice and steady. Day 2 Angela ran quicker completing it in 4.21.15. Day 3 Angela again ran quicker in 4.08.48.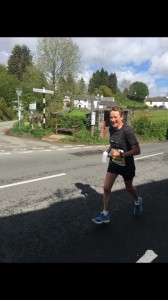 Day 4 came and so did the rain! Angela got round in 4.22.12.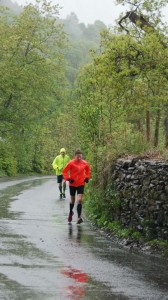 Angela made it to the half way point completing day 5 in 4.26.25.  Angela had a special visitor on day 6 with Janet Grint giving her a shout from her bike! Angela completed day 6 in 4.24.26 and enjoyed an ice cream at mile 21..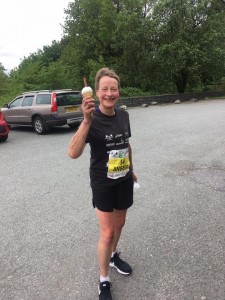 Angela completed day 7 in 4.27.44 and Day 8 in 4.32.47. Family and friends are arriving over the weekend to get her over the finish line. Angela completed day 9 in 4.24.45 and enjoyed an ice bath afterwards.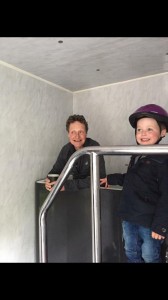 Angela yesterday completed the challenge finishing her final marathon in 4.26.15. What an amazing achievement, well done from everyone at East Cheshire Harriers you have inspired us all!
Follow daily updates on Angela's progress here:
https://www.brathaychallenges.com/events/running/10in10/10in10-daily-update
Brathay 10 in 10 News: https://www.brathaychallenges.com/news/running/angelas-birthday-challenge