South East Lancs cross country Sat 15th Feb
South East Lancs cross country Sat 15th Feb
Alison, Chris, Tony and Pete in the' bath'
The final fixture of the South East Lancs league was held at Boggart Hole Clough which on a normal day can be quite muddy but after an extended period of very wet weather resembled a battlefield.
Once again Patrick Gardiner showed his exceptional form winning the race with Howard Oldham and Kevin Jowett making up our team but losing out to a strong Rochdale team.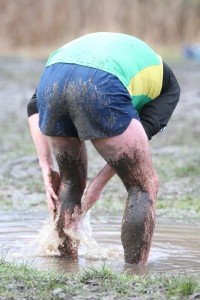 The only way to get clean wash off in a muddy pool 
The under 15 boys dominated the category with a 1,2,3 with George Lewis, Dillon Cooper and John Trotman.
Big shout out for Hannah Bird one of our new under 11′s who made her cross country debut although she found the conditions very hard going her mum reports after her tea she was happy to do it again.
In the ladies section Janine Ridgard once again was first home for ECH with Hayley Simpson and Janet Grint, who both won thier respective cataegories, making up our team.