North of England Senior Road Relays & Junior 5k Championships
North of England Senior Road Relays & Junior 5k Championships
The North of England senior 12 & 6 stage road relays took place on Sunday 27th March at Birkenhead Park.  On the same morning saw the Under 15 & 17 junior 5k road championships. It was a very quick transition from cross country to road for most athletes and lovely sunny conditions made for fast times.
Joe Taylor was our only representative and finished a creditable 48th place with a time of 20.37 in the under 15 boys race. In the Under 17 women's race Emilia Platt had another outstanding run to take 2nd place with a very fast time of 17.16 over the 5km distance which is a new PB. Imogen Gush was next in 13th place with a brilliant time of 19.47, closely followed by Aliesha Smith in 18th with 20.18. This was good enough for the Silver team medal, a fantastic achievement well done! Emilia, Imogen and Aliesha are pictured below with Olympian Jess Judd after the race!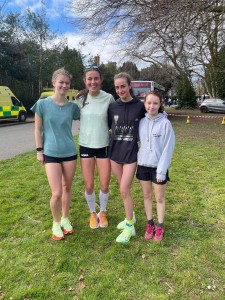 There was a superb turn-out from our seniors especially on Mothers Day with two teams in the men's 12 stage relays and added to that the first time we have had a ladies team out for a while. A significant achievement in our anniversary year, whilst our numbers may be down our team spirit is as good as it's been for many years.
The senior men's 12 stage race consisted of 4 long legs of 8km (stages 1,3,5 and 7) and the rest were short legs of 4km. The A team performed brilliantly to finish 21st overall and qualify for the National road relays in Birmingham in 2 weeks time, the first time in 10 years! The B team finished in 40th place and it was great to see a mixture of members from those running their first ever race for the club and vet athletes who have been life long members (full results and times below). Alan Kennedy Captain of the 'Dream Team' pictured in action (please click on the photo – having technical difficulties with the photo sizing).
The senior women's 6 stage race consisted of 2 long legs of 8km (stages 1 and 4) and the rest were short legs of 4km. To cap off a great day the women's team finished 24th overall and like the men qualified for the National relays. A brilliant day, thanks to everyone involved.