North of England Cross Country Championships 2020 – Silver for Joe Steward
North of England Cross Country Championships 2020 – Silver for Joe Steward
he highlight of the day came in the last race of the day with Joe Steward taking home a Silver medal in the senior men's race over 12.6km. Joe was in a break away group of 4 athletes and was involved in a sprint finish in the final straight to pinch the 2nd place spot in a time of 41.57. An amazing achievement which equalled his placing at the Northern' s at Knowsley in 2017. Gavin Browne had a good run to make the top 100 coming home in 90th position, followed by Tim Greenald 185th, Darren Smith 245th, Barry Hirst 363rd and Derek Hughes 470th making up the team.
The next highest finish of the day came in the under 13 girls race over 3.08km which saw Emily Bowker run a brilliant race to come home in 13th place out of over 200 finishers. Tim Elgar and Alfie Bundy performed well over the same distance in the under 13 boys race finishing in 105th and 116th respectively. Matilda Byrnes had an impressive run in the under 15 girls race working hard to finish in 52nd position with teammate Aliesha Smith running well to finish in 131st place. In the under 15 boys race over 4.6km Lewis Brown and Harry Lloyd both had good performances finishing 125th and 153rd respectively. Well done to Megan Lewis and Rose Barlow who both ran brilliantly in the under 17 women's event to finish 41st and 57th respectively over the 4.7k distance.
Well done to all who took part and the coaches/parents for their support on the day. Photo inset – Joe Steward leading the pack in the senior men's race. More photo's below and more available on our Facebook Page.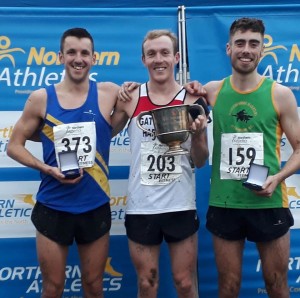 Joe Steward (right) picking up his Silver medal.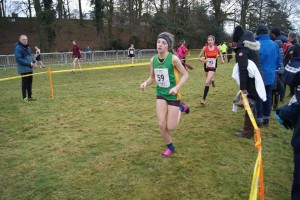 Emily Bowker in the under 13 girls race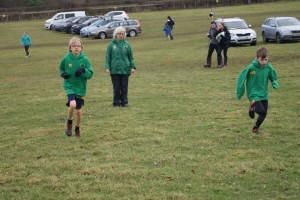 Coach Shirley Steward warming up under 13 athletes Tim Elgar (left) and Alfie Bundy (right).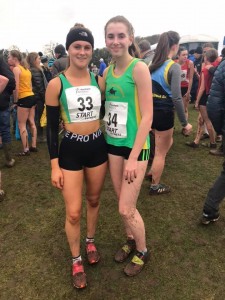 Rose Barlow (left) and Megan Lewis (right) after the under 17 women's race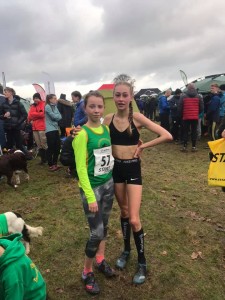 Aliesha Smith (left) and Matilda Byrnes (right) after the under 15 girls race.