Mike Coogan – Double World Champion!! *Update
Mike Coogan – Double World Champion!! *Update
East Cheshire's Mike Coogan has been representing Great Britain & NI this week at the World Indoor Masters Championships in Torun, Poland. Mike has been in magnificent form recently and deserved his selection and decided to focus on the 200m in the Vet 45 category.
As in any major Championship event Mike had to qualify through the heats first. Mike went in heat 2 on Thursday 28th March, winning convincingly and with some left in the tank qualifying in first place with a time of 24.08. In the afternoon on Friday 29th March Mike went in semi-final 1 and had to be professional and focus to make the final, which he did winning his semi-final in a time of 23.29.
Later that day Mike went in the final, with his sights on World Gold against the best athletes on the planet, which was going to be a tough test. Mike timed the race to perfection and pulled away in the last 30m to become the new WORLD CHAMPION in a time of 23.16 with Marc Ozier (France) 2nd in 23.46 and Mark Giglio (Australia) 3rd in 23.47.
To be the best in the World at your event is something words can't explain what an amazing achievement this is. Mike is an inspiration to us all and everyone at the club can be extremely proud.
Photo inset – Mike Coogan (middle) on the podium picking up his Gold medal.
Photo's below (Mike far left in both):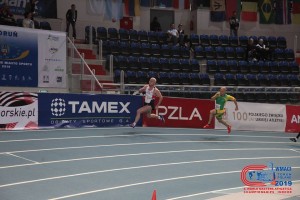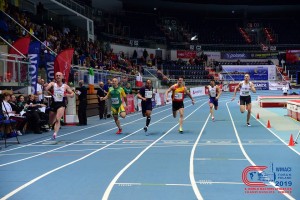 *Update:
On Saturday 30th March Mike Coogan went in the 4 x 200m for team GB hoping to win another Gold medal to add to his individual 200m Gold. Mike went on the anchor leg for the team and stormed round to help the team to a time of 1.34.75 which was good for the Gold beating Hungary and Spain in 2nd and 3rd respectively. Well done Mike (right below) – double World Champion!!