Ian and Saul impress at the World Masters Championships..
Ian and Saul impress at the World Masters Championships..
World Masters Athletics Championships Indoor – Torun, Poland, 24th – 30th March 2019
ECH athletes Ian Fraser and Saul Gallagher represented Great Britain at the World Masters Athletics Championships held in Torun, Poland this week. The Masters Championships are for age categories 35 years upwards and the oldest runner who competed was 103 years old representing India in the indoor 60m, so age has no limits!!
Both Ian Fraser and Saul Gallagher ran the 3000m indoors in the Male 50 category on the opening day. Ian Fraser finished an impressive 17th place in 10.59, closely followed by Saul in 20th place with a time of 11.52.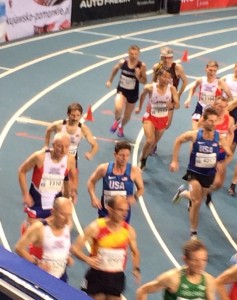 Both also formed part of the GB Team in the 8km Cross Country which was a tough and undulating 4 lap course. Ian Frazer (far right below) ran brilliantly and was the first GB counter home and Saul Gallagher (middle right below) hot on his heels was 2nd GB counter on the day. In the team standings, Team GB achieved a fantastic 8th place overall in the Cross Country World Masters M50 category. What a team!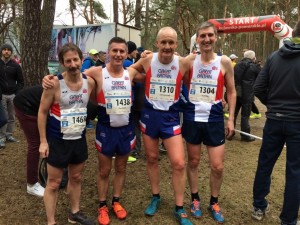 Ian Fraser also ran the 10k road race on Wednesday 27th March coming home in 87th place, 9th in the M50 category and 5th GB placing in an impressive time of 38:20.
Amazing achievement just to represent your Country, well done to you both!