Masterclass
Masterclass
The masters had for some time identified the British Championship Cross Country Relays as a target, getting four old men fit and healthy on a given day however proved to be a bigger challenge than anticipated.
As a warm up the Northern Championship Cross Country Relays at Graves Park, Sheffield Saturday 23rd October was chosen, a flurry of injuries and sick notes abounded affecting team selection.
Ian ( Fragile ) Fraser was lead off man in a very respectable 13:04, Saul ( Captain Grimace ) Gallagher a dependable 14:02, Alan ( King Red) Kennedy stepping up with 15:13, and bringing us home was John ( Been missing a while) Bowker with an ever reliable 16:02, battling the rising tornado blowing round the park!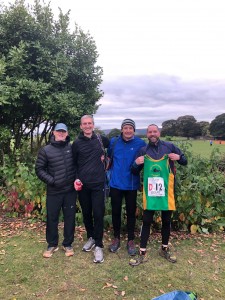 A week on and the pack was shuffled for the return of our own Club Superstar and we headed for the British Championship at Long Eaton, Derbyshire Saturday 30th October.
Masters 55+ division.
The morning deluge of travel gave way to a gloriously sunny afternoon and perfect conditions.
Our own Ronaldo decided he would opt for the safety of leg three.
Ian ( Fragile ) Fraser announcing that ' they were having it ' produced a spanking opening leg of 11:49 putting us right in the mix.
Saul ( Captain Grimace ) Gallagher delivered a reliable 12:41, handing onto Simon ( Do you know how good I was) Grundy who held us steady with 12:26, and Alan ( King Red) Kennedy brought us home in 8th place with 13:07, arguably the best run of the day in his debut British Championship having been put under pressure by his club mates.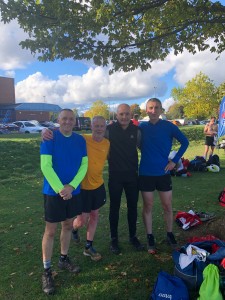 A cracking couple of weekends, brilliant team spirit and camaraderie, scope for improvement as we still believe we can make that British top five.
We go again and will focus on the British Championship Road Relays in the spring where we hope to deliver more old men fit and healthy on a given day with a couple of teams representing East Cheshire.
Saul Gallagher
Full results from both events can be found here: https://www.race-results.co.uk/results/2021/