Cross Country report 2012/13
Cross Country report 2012/13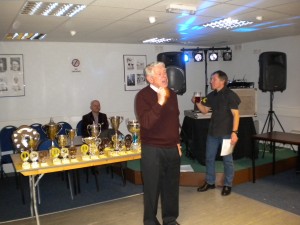 Wade Cooper at the cross country presentation night 2013
U 11 girls
At the northern relays the team were an excellent 2nd place which they improved on at the South East Lancs league by winning the team overall assisted by Ty Brockley ,2nd Abby O'Neill 3rd, Holly Jackson 5th, Megan Lewis 8th, and Freya Handley 9th. Abby, Holly and Megan went on to compete in school based leagues and acheived bronze at the Greater Manchester event representing Tameside.
U15 girls
It was a clean sweep for our U15 girls with Niamh Hartshorne, Alarna Brockley and Alannah Newell coming 1,2,3rd respectively so easily winning the team event. The girls ran well in the Championship alongside Millie Maciver and Emma Dixon.
U17 girls
A familiar trio running in their 2nd season in this category ran consistently well, competing in nearly all the South East Lancs and Manchester league races. Danielle Dignan was 4th SEL and 13th M/cr, Hayley Simpson was 5th SEL and 14th M/cr while Claire Dignan was 15th M/cr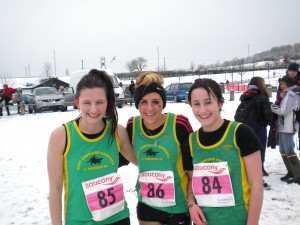 Danielle, Hayley and Claire
Senior Ladies
Another fantastic year for our ladies categories winning all 4 age groups,senior ladies, over 35′s, over 40′s and over 45′s at the South East Lancs league.Individual performances were Holly Teague, 6th senior, Emma McQueen, 2nd Over 40, Wendy Andrews 3rd Over 40, and Jannine Ridgard 1st over 45, Tracy Gibson 3rd Over 45, Gil Wolstenholme 2nd over 55 and Angela Oldham 1st over 60. Angela also won the same category in the Manchester league. Gil,Jannine and Emma also secured 3rd place in the M/cr league.
Emma and Jannine at Bogart Hole Clough
U11 boys
The boys team were a creditable 5th at the Northern relays adn 2nd at the South East Lancs league.Harry Ditchfield led the team consistently well supported by Jake Smith, Adam Kennedy,Kieron Ablott, Lewis Poole,Luke Taylor and under 9 Ryan O'Neill. At the Tameside primary schools event Josh Rowson was victorious in the U9′s race.
U 13 boys
Once again they were consistent in winning the South Esat Lancs team title. Louie Haynes easily won overall adn finished 7th in the much tougher Manchester league. Others that featured in the team event were Jack Thomas,Paolo Guarnieri,Ethan Hartshorne and Ben Lanigan.
U15 boys
A very much improved Luke Piper finished 2nd at the South East Lancs league and 4th at M/cr. George Lewis was 3rd SEL and 6th at M/cr, also a creditable 4th at the Greater Manchester schools, which earned him a place at the English schools. Max Steward was going well until he picked up an injury but cam back later in the season to help the team to win the South East Lancs title along with Dillon Cooper, Patrick O'Brien and Christian Gallagher.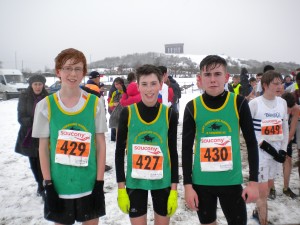 Luke, George and Max
U17 Boys
Joe Steward was the stand out athlete in this age category, finishing 2nd in all 3 major competions, 1st at South East lancs, 2nd fastest leg at the northern relays, 7th fastest leg at the national relay, and competing for the English schools. Tom McGuiness was 2nd at SEL and the boys won the SEL league assisted by Matthew Jacques, Adam Hoyle, Rob Mcarthy and Max Hobson.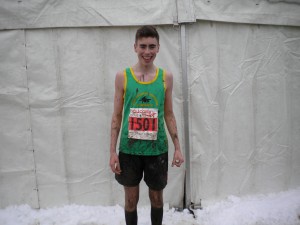 Joe Steward 2nd at the English Nationals
U 20 men
New member Karl Herod ran a very consistantly well in his first season finishing 3rd at the SEL. Joe Hudal despite being away at university managed 6th place at the Greater Manchester champs.
Senior Men
Another new boy Patrick gardiner in his first season acheived an excellent 3rd place in the Manchester league narrowly missing out ina top 100 position at the English Nationals. Our seniors and vets were successful at the SEL finishing 2nd for the senior team and the vets winning the O 40′s and O 50′s. Simon Grundy was 3rd O 45′s, Gary matthews was 2nd O 50′s, Steve Robinson was 3rd O 50′s, Francis Day was first O 60′s and Tony Hillier was 1st O 65′s. The senior team had some very good consistent performances especially from Howard Oldham, John Sloan and Kevin Jowett. Finally a shout out for Martin McGann who has competed his 44th consecutive English National.
Martin McGann