British Masters Road Relays 2022 – 'The Kings Coronation'
British Masters Road Relays 2022 – 'The Kings Coronation'
Following the recent buoyant optimism which is around the club following impressive turnouts at the Northern and National Road Relays, mustering the old guard for the British Masters Relays was another story.
Sick, lame and injured the common theme, and the Masters Galacticos choosing blue loyalty over the green and gold. No one can have missed the rising form of Alan ( King Red-AK81 ) Kennedy, under the stewardship of Professor Piper or should that be Walter White, only time will tell on the content of his input! AK was determined to have his day in Birmingham as his belief in his form was such he felt he should have been there already with the 12 stage.
So it was we headed to the Masters Relays, Sutton Park, Saturday 23rd April, Masters 55+. AK must have known all his stars were aligned as he'd been given the lead off leg in his debut British Championship appearance and we arrived to pick up numbers with his emboldened with 81A!He did not disappoint and produced a spanking 19m 52s despite the JB mistral blowing a hooley, Captain Grimace (Saul Gallagher) dragged his stump round in 21m 29s, and Ian ( Fragile ) Fraser anchored us home with a solid 20m 13s to bring us home in 17th position.
All that remained to be done was to crown the King and award him his Club Championship trophy.
Truly well deserved mate enjoy your current reign of form, long may it continue!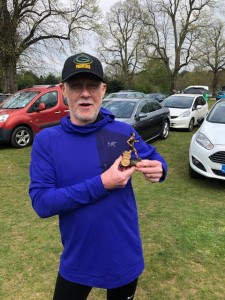 >Full Results<
Saul Gallagher