Tour of Tameside 2022 and weekly round-up
Tour of Tameside 2022 and weekly round-up
It's been a very busy week of athletics, starting on Thursday 16th June when the Tour of Tameside started. ECH had many athletes competing over the full series which finished on Sunday 19th June with Aliesha Smith taking First Lady at only 17 years old by over 7 minutes, which is an absolutely amazing achievement. Gavin Browne finished as runner up in the male category just 4 seconds off the eventual winner. Fantastic performances from all ECH athletes in a gruelling 4 day challenge (Aliesha & Gavin pictured – click on to see full image) 
>Full-Results<
In the target sprints, Callum Fricker was representing GB in the junior European champs where he took individual and team gold.
On to track and field, at the Mason Trophy schools inter counties, May Mannion contested the 80m hurdles and long jump representing Derbyshire where she ran a PB in the hurdles and Ethan Sykes finished 4th in heat 2 of the 400m representing GM in poor weather conditions.
At the Northern Senior/U20 championships from Liverpool, there some fine performances from Jack Dobson's group. George Lewis finished 5th in the SM 3000m Steeplechase with a season best performance, Megan Lewis won the SW 2000m Steeplechase, Emilia Platt took silver in the U20 women's 5000m, her first time at this distance on the track and Joe Hudak finished 4th place in the final of the SM 800m, narrowly missing out on bronze by 6 tenths.
Over at Bedford, Lily Murphy competed in the invitational U18s European trials in the 100 and 200m, where she finished 3rd in the 100m to contest the final where she finished equal 5th producing a PB of 12.04 seconds in her heat and breaking her own club record over the distance. She contested the straight final of the 200m less than 2 hours later where she finished in 6th position.
Most stand out performance of the weekend also came from Bedford where James Harney (pictured below middle) competed in the U17 England combined events championships. After a successful day one, James went into day 2 in 3rd place but after producing 2 PBs in his first 2 events on day 2 he went from strength to strength throughout the day which rewarded him with a huge PB and an overall points score of 5880 to be crowned England champion.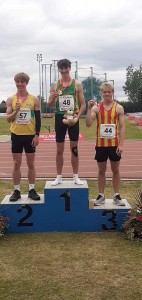 Then finally on Wednesday 22nd June the local 'Round the Resers' 5 mile trail race took place around Tintwistle reservoir. Well done to Joe Hudak who finished 2nd overall and Emilia Platt who was first female athlete over the line. Well done to all the ECH athletes who took part, full results can be found here: 
>Round the Resers<