Northern Cross Country Relays 2017
Northern Cross Country Relays 2017
The Northern Cross Country Relay Championships took place on Saturday 21st October at the usual venue of Graves Park in Sheffield. There were some excellent performances and team results in many different age categories throughout the day.
East Cheshire's highest team finish on the day came in the under 11 boys event with an excellent 4th place finish with Luke Carrington 5.18 (Joint 5th fastest time overall), Cole Wright 5.59 and Joel Bowers 5.40 making up the team. Joel Taylor and Joel Harney ran well in the B team with times of 7.02 and 6.52 respectively. The under 11 girls team also performed well with a brilliant 6th place finish with good performances from Maria Rooke 6.03, Darcy Slattery 6.07 and Madeline Stout 5.59. Emily Bowker 6.06 and Alice Cunningham 6.36 also ran well in the B team.
The under 13 boys A team finished in 25th place with Niall Owen 6.40, James McGraw 6.44 and James Harney 6.23. The C team finished in 32nd place with Kane Grant 6.43, Kyle Shenton-Cox 6.55 and Louie Storey Grimshaw 7.44. Jack Bowler Greenwood and Cillian Mulcahy also ran well in the B team with times of 7.00 and 6.42 respectively. The under 13 girls A team also finished 25th place with Libby Kilbourne 6.33, Imogen Gush 7.27 and Matilda Byrnes 6.52 making up the team. The B team placed 41st with Leigha Manser 7.10, Aliesha Smith 7.53 and Ellen Lees-Hill 7.48.
Keenan Owen ran the first leg in the under 17 men's event and came back in 3rd place with a time of 7.18 which was good enough for the 5th fastest time overall on the day. The senior women's team finished in a solid 24th place overall with good runs from Bethany Hirst 14.02, Lily McGuinness 14.16 and Janet Grint 14.31. The senior men's team finished a fantastic 6th place with Scott Matthews 11.51, Joe Steward 10.25 (3rd fastest time overall), Joe Hudak 11.20 and Tom McGuinness 10.51.
Well done to all and thanks to coaches and parents for their help on the day.
Photo inset – Shirley Steward with her under 11 and under 13 athletes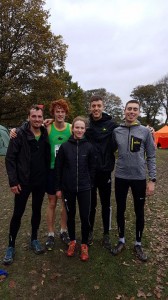 Above some of our senior athletes. Left to right – Joe Hudak, Tom McGuinness, Lily McGuinness, Scott Matthews and Joe Steward.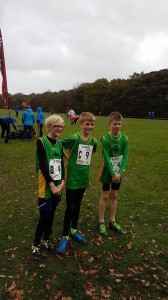 Above our under 11 boys 4th place team. Left to right – Cole Wright, Joel Bowers and Luke Carrington.