Mike gets 2nd at Tameside Sports Awards 2016
Mike gets 2nd at Tameside Sports Awards 2016
The pride of Tameside sports awards 2016 took place on Friday evening the 23rd September at Dukinfield Town Hall. The event consisted of a 3 course meal, a question and answer session with ex-England cricket captain Michael Vaughan and the main part being the awards ceremony. Other special guests included legend runner Ron Hill.
The award categories were:
Sports Achiever of the year
Disabled Sports Achiever of the year
Coach of the year
Club of the year
Unsung hero of the year
Volunteer of the year
Changing lifestyle recognition
We had 4 individual nominees from East Cheshire Harries including Mike Coogan (Sports Achiever), Keenan Owen (Sports Achiever), Tom McGuinness (Sports Achiever) and Wendy Andrews (Coach of the year). East Cheshire Harriers were a nominee in the club of the year category also.
Mike Coogan after a very successful year managed to take 2nd place in the Sports Achiever of the year award. In the last 12 months Mike won the 400m silver at the British Masters Championships, the 200m Gold at the Scottish National Masters Championships and the 400m Gold as part of Team GB at the European Masters Championships. See below Mike with his award: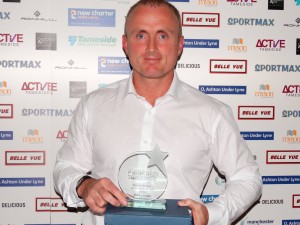 Well done to all and we hope you enjoyed the night!
Full details: http://www.activetameside.com/sports-stars-shine-brightly/