Manchester Area League Cross Country Reports 2019/20
Manchester Area League Cross Country Reports 2019/20
Match 1 – 12/10/2019 - Wythenshawe Park, Manchester (no under 11′s)
The first match of the cross country season took place at a flat but very muddy Wythenshawe Park with a great turnout from ECH athletes  The under 13 boys team finished a solid 8th place overall with excellent performances from Bobby Burton 13th, Tim Elgar 26th and Oliver Bentley 32nd making up the team. The under 13 girls were also well represented with the team finishing a creditable 6th place with Emily Bowker running brilliantly to finish 3rd overall. Good performances coming from Darcy Slattery 30th and Maria Rooke 35th made up the team. The under 15 girls team finished 8th overall with Matilda Byrnes having a great run to come home in 12th place, followed up by May Mannion 24th and Aliesha Smith 26th. Megan Lewis had a fantastic run in the under 17 women's race to finish 5th place with Rose Barlow 11th and Katherine Waters 28th making up the team which finished a superb 4th place overall.
Hayley Simpson was first home for ECH in the senior women's race finishing 17th overall out of nearly 300 competitors. Bethany McManus 53rd, Karen Fleming 106th and Andrea Edwards 116th made up the team which finished 12th place overall. Joe Hudak was first home for ECH in the senior men's race finishing in a brilliant 24th place out of over 400 finishers, closely followed by Gavin Browne in 32nd place. James Hartshorne 70th, Darren Smith 127th, Callum Brierley 137th and Ian Fraser 150th made up the team which finished in 12th place.
Well done to all athletes. See photo inset of the under 15 girls team and below some of our under 13 girls. More photo's are available on our Facebook page.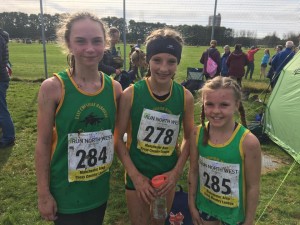 Match 2 – 09/11/2019 - University playing fields, Wythenshawe
The second match of the series took place at the University playing fields / Kenworthy Woods in quite good running conditions despite the heavy rain we have had. Another fantastic turnout from ECH athletes which kicked off with the under 11′s. The boys team finished 7th overall with Alfie Manser finishing a very impressive 5th place followed by Marshall Fleet 26th who was closely followed by Finley Partington in 27th to make up the team. The under 11 girls team finished a creditable 12th with Anna Rooke 30th, Isla Herring 40th and Olivia Kelly 51st all performing well. Bobby Burton had a strong run in the under 13 boys race finishing 11th in a high quality field with Tim Elgar and Oliver Bentley 29th and 34th respectively bringing the team home in 6th position. The under 13 girls team also finished 6th with Emily Bowker achieving our highest finishing position of the day coming home in 4th position with teammates Darcey Slattery and Maria Rooke having a close battle in 25th and 26th places respectively. The under 15 girls finished a solid 8th place with good performances coming from Matilda Byrnes 15th, May Mannion 21st and Imogen Gush 35th.
Our highest team finish on the day came in the under 17 women's race with excellent performances coming from Megan Lewis 6th, Rose Barlow 10th and Katherine Waters in 26th place. The senior women finished a very creditable 8th place out of 67 teams with Hayley Simpson first home having a great run finishing 11th place overall. Bethany McManus 36th, Michelle Vaughan 60th and Karen Fleming 120th completed the team. The senior men's team finished a respectable 7th position out of 69 teams with David Barratt first back for ECH in a brilliant 9th place. Ever consistent Joe Hudak was next in 22nd followed by Gavin Browne 32nd, Scott Matthews 36th, Robin Horner 96th and Liam Browne 111th making up the team.
Well done to all who took part and thanks to the coaches, parents etc for their support on the day in cold conditions! A picture of some of our under 11′s getting ready for the start below – more photo's can be found on our Facebook Page.