Greater Manchester Schools Cross Country Champs 2020
Greater Manchester Schools Cross Country Champs 2020
The Greater Manchester Schools Cross Country Championships took place at Heaton Park on Saturday 31st January 2020.
Well done to all ECH athletes who took part on the day and represented their Borough, there were some excellent performances. Special mentions go to Emily Bowker (1st Minor Girls), Bobby Burton (3rd Minor Boys) and Matilda Byrnes (3rd Junior Girls) and will now represent Greater Manchester at the English Schools Championships at Prestwold Hall on 21st March.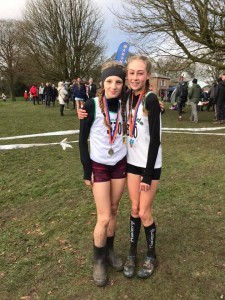 Emily Bowker (left) and Matilda Byrnes (right) with their medals.
Photo inset – Bobby Burton warming-up on the start line.
Please visit our Facebook page for some more amazing photo's and video's of the day.